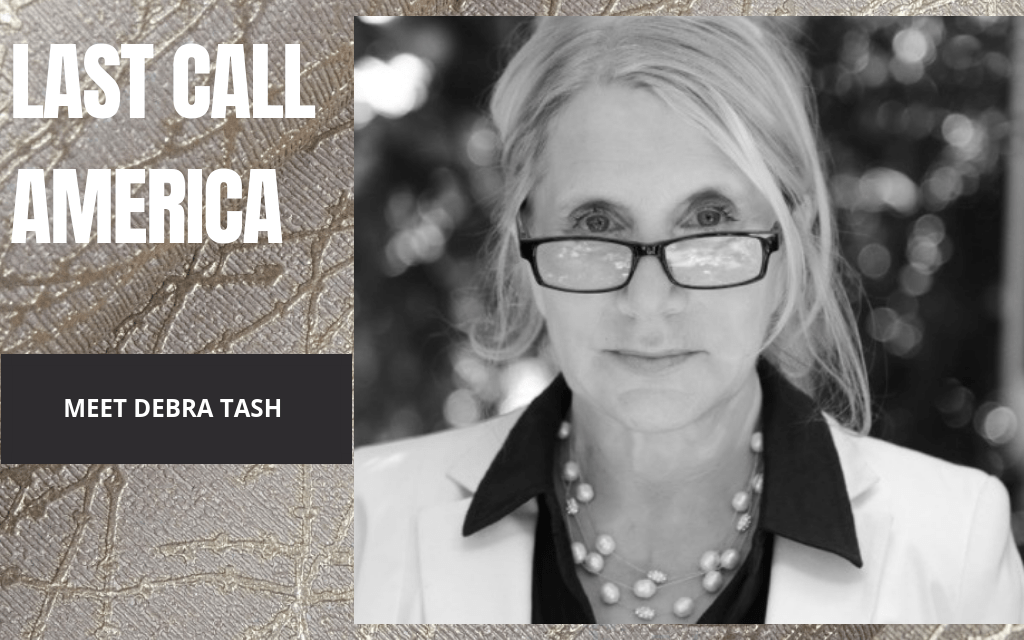 Last Call America!
Debra Tash is an award-winning American author, journalist and accomplished speaker. Her books have won multiple awards and been sold nationwide.  Debra was born in Los Angeles where she honed her writing skills through various creative outlets including painting, with a few of her pieces touring internationally in Japan.   
She gets her inspiration from current and past events, Debra Tash focusing on positive morals and uplifting themes. Her most recent book "Last Call America" focuses on the not so distant future and takes the current American political climate to a chilling collision.
From columnist Rich Eber's review: "Last call America is a page-turner…the pay-off is a thought-provoking book which is well worth spending the time to read."  
Vertikal spent a delightful time with Debra Tash interviewing her on a Taste Of Ink Live.  Enjoy!
What is your writing Kryptonite?  DT: It's what is interesting to me.  I have written on ancient history, on events during the founding of our nation and now my latest, set in the not so distant future. It's seeing all of human history, the elevated perspective, that nothing is new under the sun.  We make the same mistakes.  This gives me that Kryptonite, the key inspiration to write, at times light heartedly, at others with a sharp edge.
What literary pilgrimages have you gone on?  DT: I've traveled to Europe, mostly Italy, marveled at what others have left behind, monuments, ideas, hopes.  The travel that affected me the most is visiting the battlefields of our own American Revolution.  To see the Valley Forge encampment and know that with the harsh conditions they endured, the lack of pay and support, the army should have deserted.  But what the enlisted were there for was larger than their leadership, the Congress, their generals.  They were there for their individual freedom which so much larger than who is in command or who is in power.  Every one of them had their own dream, and they wanted to win it. That was very inspiring.
Do you want each book to stand on its own, or are you trying to build a body of work with connections between each book? DT: This book will stand on its own.  I do have it in three parts but decided to release it as a whole. I have a body of work but it is work that I wanted to do, was inspired to do, that was entertained doing it.  That is my body of work.
If you could tell your younger writing self-anything, what would it be?  DT: Get your work out sooner.  Don't be afraid of rejection, criticism, be bold.  Don't look for affirmation out there.  Know you've done the best you could and say it.
How did publishing your first book change your process of writing?  DT: I have been published by smaller houses, micro-publishers.  I learned that I can't write for the market because by the time I finished the market changed. I just knew I had to go on and perfect my craft.
What was an early experience where you learned that language had power?  DT: Language does have power.  These days, with information overload and sound bites, crafting that bite that will stick with people.  That phrase they can take with them is much more powerful than a million words of prose.  Learning to write that phrase, that memorable character, that use of spoken and written language that stays with your listener/reader is real power.
How many unpublished and half-finished books do you have?  DT: More than I can even remember.  When I shuffle off to Buffalo I have to leave a note in my closet, "Enter at your own risk."  You have to learn when to walk away from a project.
What does literary success look like to you? DT: To have someone say/write that the book/article that I wrote stuck with them beyond the moment that they were entertained.  That is the real success.
Do you read your book reviews? How do you deal with bad or good Ones?  DT: I do.  It sometimes means something and is helpful.  What isn't is the ones where they just knock your work, come out of the blue and for leaving me asking, did they even read it?  This is for the good or the bad.  If it's relevant I pay attention.
What did you edit out of this book? DT: So much in this one.  I have a critique group and there was one person in it who absolutely despised one of my main characters. I first envisioned that character as a foil for the key protagonist.  With my critique partner's input the character developed, the arch evolved until he became a hero.  Writing is a journey for both the author and the writer.
Hear Taste of Ink LIVE by C. Stene Duckworth's Interview with Debra Tash